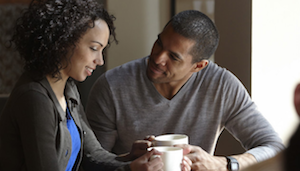 Tighten Up
The man that can control his desires and urges has tremendous power. Most men, like most people, are weak. They are easily broken and give into dominant feelings and influences. They're needy.
But a man that can control himself, has the discipline and clarity of mind to implement psychological strategies/tactics. (Note, the first mistake most men make with women is wanting them in the first place.)
This is especially the case when it comes to attractive women. The most "macho" man is weak when it come to getting approval from a woman. And it's ironic, because any woman worth having is not going to want a man that's "weak" for her. She will resent his supplication and lose respect for him.
Once a man develops self-control, he can run game on women. And the results are startling.
The most obvious sign of progress is a female's response to being ignored. This is a powerful form of rejection that most women, especially if they're materialistic, can't endure. This move strikes a blow directly at their ego; and they'll bend, willing to do anything to get your approval.
Self-control is a prerequisite to making power moves. You have to establish a dominant presence, and the easiest way to do this is by not needing women, seeking approval, currying favor, supplicating – nothing!
Master complete and total indifference to women.
You can be polite and social. But never come on to women, or try to get into their personal lives.
Additionally, watch how they move, see what they respond to and tease them with it.
Run push/pull to stimulate desire. Women NEVER respond to what they claim to want. They basically want ambitious, dominant, masculine men, who are indifferent to them.
It's How You Move
A grown man moves slowly. His very being radiates calm and control.
People get it wrong, thinking some men walk "cool" just because. The real reason is, the man that "knows" is always aware. His mind and senses are fine-tuned. He's always watching every nuance of those around him, he's sensitive to his environment.
By slowing down his bodily movements he's better able to "see" and make constructive decisions that are not based on impulse. This affords him a deeper understanding of reality and positively informs his choices.
Most people are unaware and have tunnel vision. They don't "see" what's right in front of them. They're naïve and innocent, believing whatever fantasy is sold them because they're looking to be taken care of, saved.
The aware man knows he must take care of himself. No one is coming to save him, or cares if he's successful or not.
Handle Your Business
Most men are not emotionally built for running big things. They're small thinkers and can't see past their dicks.
This is the key to getting the right people around you and making big moves with a team.
Many guys are chumps, struggling for acceptance from people that either don't want them, or who are gaming them. Because chasing shows weakness. That's why working with someone that wants to work with you is such a powerful move.
If they like you from the jump, you can lay back on the persuasion, while (always) keeping your game tight. Remember, if you have a crew of die-hards, nothing can stop you.
This is basic. People are too caught up in themselves. Their lack of awareness and ego keep them in the dark, oblivious to social nuances. But if you can figure out what someone wants, you will have a tremendous advantage over them.
Until next time,
Brick
Did you enjoy this post? Please help us by sharing it on Social Media!