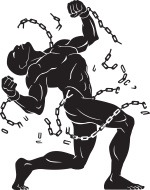 Let's get to it.
Freedom is a concept. You've got to make it real.
How?
Get serious about your finances. If you're tired of working for others, making them rich, being a slave, then get your money in order.
I'm going to give you a full proof plan for economic and career freedom.
If you think a job leads to economic freedom you will remain frustrated. Working for others is a dead end. There's no future.
The very nature of all jobs is to pay employees the minimum for a maximum effort. In other words, they'll use you up and get rid of you when you can no longer perform.
If you look at jobs as a jump-off to saving money and freeing yourself, you'll feel better. The frustration of working for someone won't affect you as much because you have a goal.
You'll be living your dream, following your plan.
The plan is to figure out your monthly expenses and start saving that amount. Save one month, two months and so on. When you can save 6 months to a year's worth of living expenses you're tasting freedom. You can literally live a year, or longer, without working for someone else.
One day you might quit your job, find another job. Or, which is preferable, start a business and put your money to work for you.
Either way you've exercised control over your life. You're no longer taking crap from people because you have bills to pay.
Get at this immediately. It doesn't matter one bit how much money you presently earn. Start saving!
Remember, the more money you save the freer you become. Stop struggling, become independent. Tear off the shackles and make your dreams come true.
Later,
Gary
Photo Credit:
Did you enjoy this post? Please help us by sharing it on Social Media!